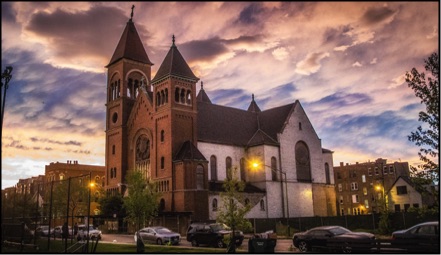 About this site
This informational website was created in response to the continuous flow of interest and inquiries regarding the history and future of the abandoned Saint Boniface property located in Chicago's West Town neighborhood at the corner of Chestnut and Noble streets.
Most Recent Update
July 28, 2017
As of today's date Stas Development continues to work with the City of Chicago to finalize terms and conditions for final approval of the site plan. Although the original projected construction start date of May 2017 has passed Michael Skoulsky (president of Stas Development) has told Saint Boniface Info that the project is moving forward.
Recent measures Stas Development has taken to secure the property include the fortification of all access points into the church, the installation of a 24-hour surveillance camera system, a complete cleanup of the site and the construction of a new eight foot chain link fence that surrounds the entire perimeter of the site.
All past updates can be found on the Timeline page of this site.
............................................................
Photo Credit: Cheston Bogue
Before contacting this site please read the note below.
Access to Church: This website does not own or manage the Saint Boniface property and cannot grant access to the church or grounds. All reqeuests of this nature should be directed to info@stasdev.com
Parish Records: This website is not associated with The Archdiocese of Chicago and does not have access to records of former parishioners. We suggest inquiries concerning such information be directed to The Archdiocese of Chicago's Archives and Records Department