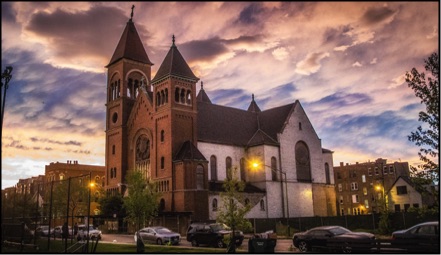 About this site
This informational website was created in response to the continuous flow of interest and inquiries regarding the history and future of the abandoned Saint Boniface property located in Chicago's West Town neighborhood at the corner of Chestnut and Noble streets.
February 8, 2022
On 02-08-22 Saint Boniface Info met with Mike Skoulsky of Stas Development. Mr. Skoulsky provided us with a recap of his proposed development and a brief insight into the progress and future of the project.
Recap
Phase I of the Saint Boniface development project will include both the renovation of the church, and the construction of a new building just north of the church at 921 N. Noble St. Work on the church itself will save the structure from demolition and convert it's interior into eighteen, three and four bedroom condominiums. The new structure on the Noble St. side will "most likely" be three stories in height with commercial occupancy on the first floor and six smaller condominiums on the second and third.
Phase II will be a newly constructed building on the lot east of, and adjacent to the church. This new structure will be approximately four and a half to five stories in height and include twenty-four large condominiums.
There will be one indoor parking space per unit for the entire project.
Interior demolition work on the church began last year but was halted until pre-construction sales reached five units. Mr. Skoulsky happily reported that, as of today's date, a total of eight church units have been sold pre-construction, and that interest in the remaining units is keeping his sales team very busy.
Looking Forward
Mr. Skoulsky and his partners have chosen a general contractor and depending upon permits, the goal is to begin structural work on the church by April 2022. The target date for completion of Phase I is spring of 2023.
Link to The Boniface sales website here
The Zillow site has more info, including floor plans and renderings.
All past updates to the Saint Boniface Info website can be found on the Timeline page.
Photo Credit: Cheston Bogue
Before contacting this site
please read the note below.
Condo Purchase Inquiries:
This website is not affiliated with the developer of the Saint Boniface project. All inquiries regarding site plans and or condo information should be directed to theboniface.com
Access to Church: This website does not own or manage the Saint Boniface property and cannot grant access to the church or grounds. All reqeuests of this nature should be directed to info@stasdev.com
Parish Records: This website is not associated with The Archdiocese of Chicago and does not have access to records of former parishioners. We suggest inquiries concerning such information be directed to The Archdiocese of Chicago's Archives and Records Department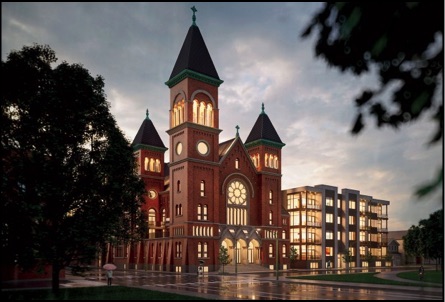 Rendering Courtesy of Stas Development