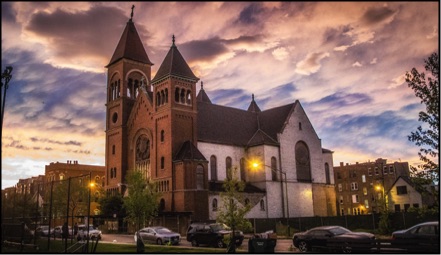 About this site
This informational website was created in response to the continuous flow of interest and inquiries regarding the history and future of the abandoned Saint Boniface property located in Chicago's West Town neighborhood at the corner of Chestnut and Noble streets in Chicago.
PLEASE NOTE:
Before Contacting This Site
This website does not own or manage the Saint Boniface property and cannot grant access to the church or grounds. All reqeuests for access should be addresed to info@stasdev.com
This website is not associated with The Archdiocese of Chicago and does not have access to records of former parishioners. We suggest inquiries concerning such information be directed to The Archdiocese of Chicago's Archives and Records Department
Most Recent Update
October 2, 2016
On September 23, 2016 The Chicago Academy of Music (CAOM) in partnership with Stas Development closed on a deal to purchase the Saint Boniface property.
Stas Development's plan includes saving, land marking and converting the church building into 15 high-end condominiums. In addition, two new buildings will be constructed on the site. One on the Chestnut street side with between 20 and 24 new condos and one on the Noble street side that will house a new satellite location for the Chicago Academy of Music. The CAOM building will include three small commercial businesses on the first floor, 8 studio apartments for staff and master students on the second and an auditorium on the third and fourth floors.
After many years and countless proposals the community was very happy to support the CAOM/Stas plan due to it's relatively low density and preservation of the church building.
In a brief interview with Mike Skoulsky of Stas Development, after the completion of the purchase, Saint Boniface Info learned that Mr. Skoulsky (a local neighborhood resident himself) has already begun securing the church building and will very soon anchor the leaning cross on the highest tower. He also intends to clean up the vacant lots and repair the fence surrounding the property.
The next step for Stas Development is to present formal plans for the project to the community and City of Chicago. Once agreed on, CAOM/Stas and the City will sign on to a Restricted Development Agreement (RDA) that would hold CAOM/Stas to the plans presented and create a timeline for the project to be completed. Mr. Skoulsky's intentions are to begin construction in the spring or early summer of 2017. Interior cleanup work on the church may begin as early as November.
All past updates can be found on the Timeline page of this site.
............................................................
Before contacting us please read the note above.
Photo Credit: Cheston Bogue